MARESI: Fine dairy products since 1955
MARESI stands for excellent products and a long tradition. It is one of the most famous Austrian brands and known for high quality and authenticity.
The brand MARESI was born in 1955. The name "MARESI" was conceived in a Viennese wine tavern in Grinzing when in 1955 a participant told that they had just invented long-life milk in Stainach in the Enns Valley, but still needed a name for it. "Maria Theresia," offered one of the others, "but as we call her in Vienna: Maresi."
And the new brand "MARESI" was born.
The 250g bottle with crown cork was the first product in the assortment and the blond-brawned milkmaid conquered the Austrian coffee tables in a flash.
The creamiest iced coffee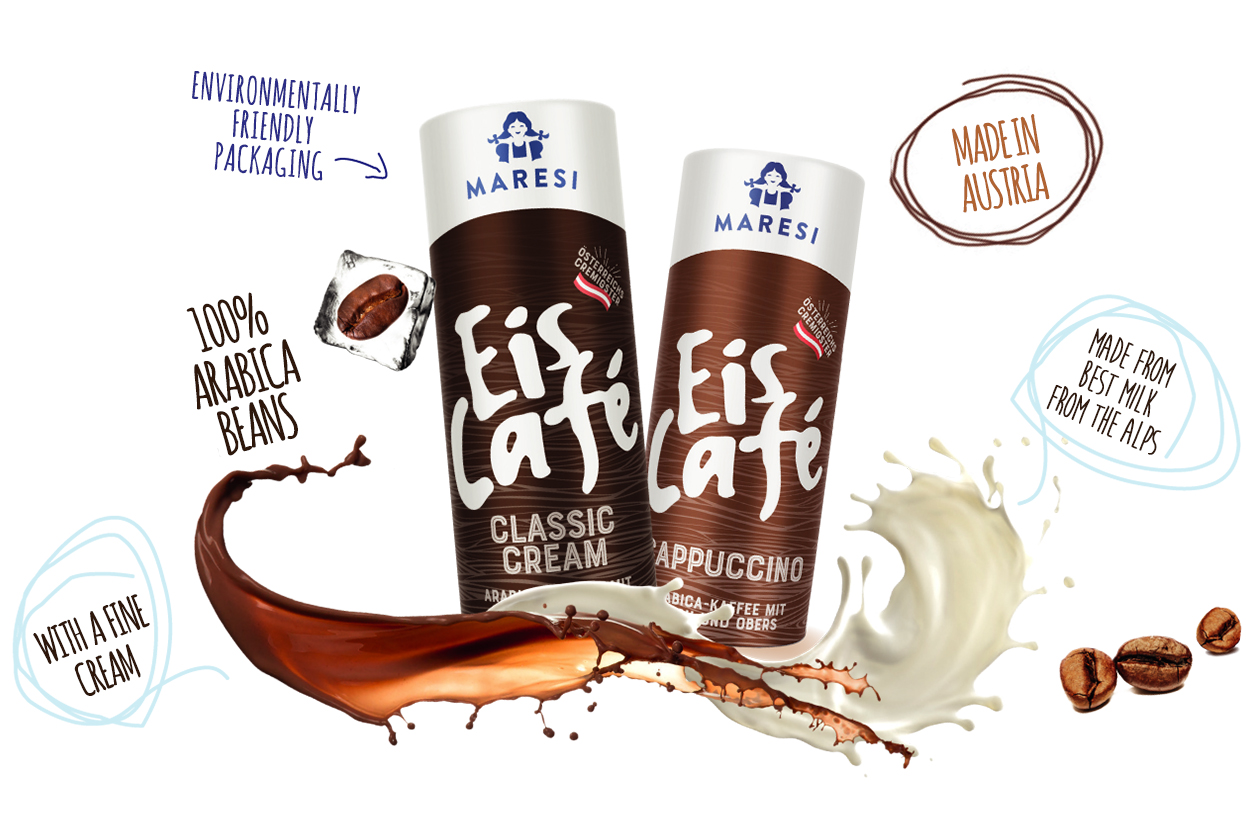 Your choice:
CLASSIC CREAM

or

CAPPUCCINO CREAM

!

MARESI iced coffee is particularly creamy and it really makes every break an enjoyable time out. The convenient and environmentally friendly iced coffee is made from best Austrian milk from the Alps, Arabica beans and fine cream.

Just enjoy the creamiest iced coffee.
CLASSIC CREAM
MARESI classic cream offers an absolute classic recipe and is our most popular iced coffee. Classic Cream is made from best Austrian milk from the Alps, with fine cream and real Arabica beans. This variety is just the thing for lovers oft he so called Austrian "Großer Brauner" - a big cup of coffee with delicate milk and milkfoam.
A real pleasure for in between!
CAPPUCCINO CREAM
MARESI classic cream offers coffee with more milk for even more enjoyment. This iced coffee variety is made out of best Arabica beans with plenty of delicious milk from the Alpes and fine cream. A perfect match of rich coffee flavor and creamy milk.
Treat yourself to a creamy break!
Nutritional Information
| Nutrition Information (pro 100ml) | classic cream | cappuccino cream |
| --- | --- | --- |
| Caloric value (kJ/kcal) | 383/92 | 300/71 |
| Fat (g) | 4.7 | 2.5 |
| of which saturated fatty acids (g) | 3.0 | 1.6 |
| Carbohydrates (g) | 9.3 | 9.0 |
| of which sugar (g) | 9.2 | 8.9 |
| Protein (g) | 2.8 | 3.0 |
| Salt (g) | 0.23 | 0.19 |
Made from the best Austrian milk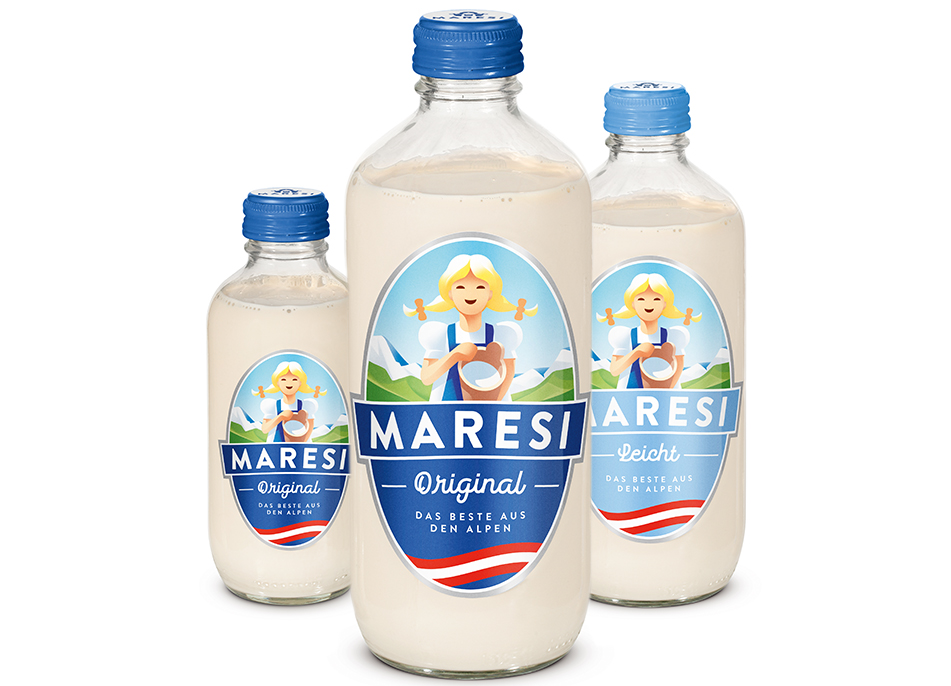 MARESI is the most popular coffee milk in Austria, made from the best Austrian milk from the Alps. It colors the coffee golden brown and ensures the typical MARESI coffee enjoyment. For the production of a 500g bottle of MARESI coffee milk 1 liter of fresh whole milk is needed. That's why it was once called "double milk". During production, fresh Austrian milkfrom the Alps is deprived of water by heating, which makes the milk stable, and ensure the MARESI coffee milk gets its typical, creamy consistency. MARESI Milch has been produced in Styrian Ennstal since 1955 and is available in three varieties - the original, light and organic.
All three varieties are pure natural products and do not contain preservatives or additives.
New: MARESI Fixmilch Instant

Also in the MARESI assortment: the so called Fixmilch. It is milk powder made from skimmed milk.For this, water and fat is gently removed from fresh milk and thus preserved.
The immediate solubility of the product is achieved by a special procedure. The practical storage at home or as a food for on the go, on vacation or camping is given by the uncooled shelf life of this Fixmilch product.
The possibilities of using Fixmilch are as varied as those of fresh milk.
Typisch MARESI. Was die alles kann!
Imprint
MARESI Austria GmbH
Hietzinger Hauptstraße 119-121
1130 Vienna
Austria
Phone: +43/1/531 89-0
Fax: +43/1/531 89-24
E-Mail: office@maresi.at
Website: www.maresi.at
Commercial register no.: FN 161846 i
Commercial Court: Vienna
VAT no.: ATU61613203

LEGAL NOTICE
The following terms and conditions govern the use of the internet contents offered on the domain www.maresi.at by Maresi Austria GmbH. By using our website, the user accepts these terms and conditions in full. If the user disagrees with these terms and conditions, s/he is expressly prohibited to further use our website.
Maresi reserves the right to amend these terms and conditions for use unilaterally at any time. The currently valid version of the terms and conditions is published on the website under 'Imprint / Legal notice'. All amended terms and conditions shall automatically become effective immediately after they are posted on the website and any subsequent use of the site shall be governed by such amended terms.
The user is allowed to download, print and save files from this website for private use only. Any further use, especially establishing a hyperlink to or framing all or part of the website requires prior written approval by 'Maresi'. Any content of this website and all its parts has been compiled and monitored with the utmost care.
Nevertheless, Maresi cannot warrant that the information contained on this website is always complete, accurate and up-to-date. Nor can it be totally excluded that in viewing or downloading files from the website the user's computer system may be damaged by harmful elements. Any liability by Maresi for any damage arising from use of this website is therefore excluded, as long as this damage does not result from intentional or grossly negligent behavior by Maresi.
Contact